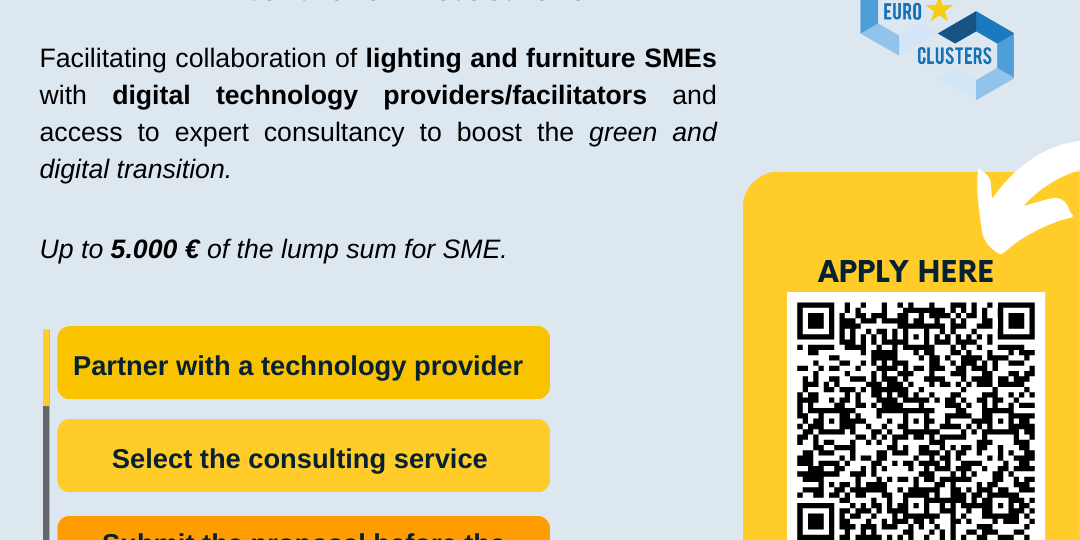 1° Open Call for Business Digital Transformation Projects is finally open!
The first SILEO (Supporting recovery and business transformation of lighting & furniture SMEs for the Europe Industry of Tomorrow) Eurocluster Open Call has been launched today at 10:00 CEST and it will stay open until 20 June 2023 at 17:00 CEST!
This is a great opportunity for European SMEs from the lighting and furniture sectors to access expert consultancy with digital technology facilitators/providers to boost their business green & digital transition.
The SILEO Call for Business Digital Transformation Projects aims at supporting lighting and furniture SMEs' access to one of the following expert services:
General expert consultancy on company digitalization processes;
Specific expert consultancy on identified advanced technology(ies) and/or digitalization process(es) to concretely explore its potential uptake at the company level, its implementation procedure into the firm operations, and the scale of investment;
General expert consultancy for business transformation and market analysis: support in market intelligence analysis including an outline of the size of the (new) market (segments) potentially accessible thanks to the company's technological upgrading, product demand, trends, customers, and competitors.
This 1° Open Call will support up to 25 projects submitted by an individual SME from the lighting and/or furniture sector with a specified technology expert selected from the SILEO Pool of technology uptake facilitators.
These projects will last from 2 to 5 months, and the budget available is up to € 5.000 of the lump sum for SME per 1 project.
For further information about this SILEO 1st Open Call for Business Digital Transformation Projects, check on the SILEO Application Portal, the Open Call Documentation, including the Applicant Guidelines, the Application form (off-line template), and the Declaration of Honour.
SILEO Coordinator – contact person:
ELCA European Lighting Cluster Alliance – Marta Krakowiak: marta.krakowiak@elcacluster.eu