FROM THE DISTRICT TO THE INNOVATIVE REGIONAL NETWORK VENETIAN SMART LIGHTING
The lighting sector represents, within the "home" system, one of the leading sectors of Italian manufacture able to blend elegance, design and technology together. In particular, Veneto Region is the second area in Italy for number of companies operating within the lighting sector.
On the basis of such considerations in July 2008 the Veneto Region approved the Venetian District for lighting systems. In 2009 a group of these companies decided to join together in a Consortium, named Luce in Veneto Scarl, in order to strengthen their position in the market and cooperate on the following areas: research and innovation, internationalization and training.
Further to the new regional law n. 13/2014, Luce in Veneto Scarl promoted the candidacy of the Rete Innovativa Regionale (RIR) Venetian Smart Lighting in June 2016. The RIR groups together entities with different specializations in the smart lighting field, with world's leading companies inside.
In January 2016 the Rete di Imprese Luce in Veneto was first established as legal entity designated to represent the RIR "Venetian Smart Lighting" at the Veneto Region.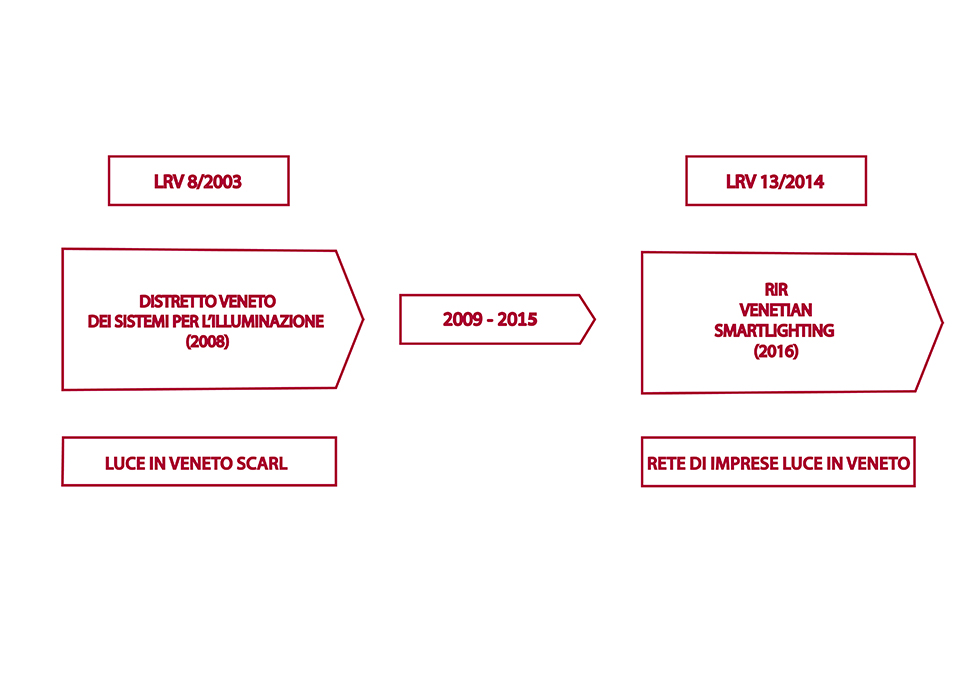 GEOGRAPHICAL DISTRIBUTION
Most companies of Luce in Veneto stretch over nearly the whole Veneto Region, with a prevalence in the interprovincial territory of Padua, Treviso and Venice (77 % of the companies).
Breakdown of the companies by location of headquarters:
–         30% in Venice Province
–         27% in Treviso Province
–         20% in Padua Province
–         16% in Vicenza Province
–         5% in  Verona Province
–         2% other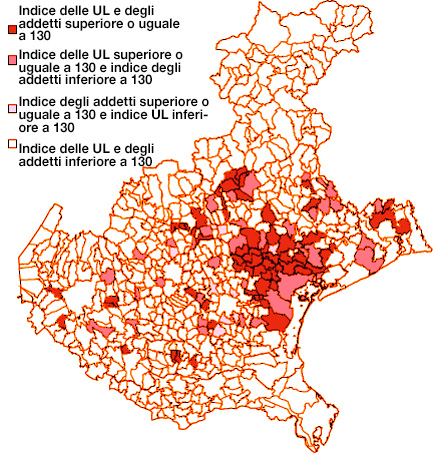 GOVERNANCE
The management of Luce in Veneto is entrusted to a Board of Directors consisting of 3 to 5 members appointed for a period of three years. The board dictates the strategic approach and promotes new activities to the network.
The Board of Directors is supported in these activities by a Cluster Manger , working at the headquarter in Piombino Dese (PD).
NETWORK WITH UNIVERSITIES, RESERACH CENTERS AND CLUSTERS
Luce in Veneto works closely with Local Authorities, Institutions, Research Centers, Clusters, laboratories, engineers, professional organizations both locally and at European level in order to increase the participation in new development projects and to foster a debate on the possible thematic areas of common interest in the lighting field.
Since 2012 LUCE IN VENETO is a member of  ELCA, an Association of European Clusters within the lighting industry.
VIDEO PRESENTATION OF LUCE IN VENETO