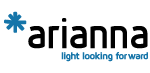 ARIANNA SPA
Via dell'Industria, 14
35020 Brugine (PD) – Italy
Tel. +39 049 7389920
The Arianna's adventure began with 3 patents.
"Development of the family of internationally-registered patents has been driven by concepts borrowed from astronomy, the optical principle of total reflection has been applied to LED lighting." what has been achieved are unexpected positive effects on the quality of light and on visual comfort. It was an innovative discovery to field in Italy, but also in the world, the Total Reflection Patent. For the first time the emissions of each LED are conveyed towards an internal reflector, that projects the light onto the ground.
A year later, in 2009, Alberto Giovanni Gerli took courage and founded Arianna, a company specializing in the design and manufacture of LED luminaires, which will make the patent its strength. Arianna is now a joint-stock company whose majority shareholder is CAREL, an Italian multinational specializing in electronics for air-conditioning, refrigeration and high efficiency solutions
Arianna is an organizational structure constantly focused on innovation: precisely-configured and calibrated lighting, prepared to ensure maximum visual and energy performance on roads, in tunnels, large spaces and urban areas. It supplies high-quality lighting, even in the most complex contexts, through innovative technological solutions with a low environmental impact, rationalizing the points of light, minimizing light pollution, uniformly illuminating the ground and avoiding upward light loss. 
Arianna manages every stage of the luminaire production process: from design to manufacturing, sales, service and maintenance; its team features significant experience and specialization in lighting calculations: every single element is analyzed in detail to ensure a high-performance installation.
Research and development are focused above all on care for environment, safety and urban quality of living. In areas where lighting is provided extensively, system efficiency accounts for up to 75% of the costs in the medium-term.
The heart of Arianna's products is designed and built in-house. The luminaires are all made in Italy. The company's SMD process ensures quality control of the soldering on the LEDs and means faster product delivery times. Production cycle quality certification guarantees a safe and reliable product.
www.ariannaled.it